---
Our Polynesian shows provide fun, exciting, quality, family rated entertainment with a South Seas touch. We bring you dances from Hawaii, Tahiti, and the Maori people of New Zealand, presented in infinitely adaptable formats.
We are now providing you an exceptional opportunity to feature fire performers at your event! Fire dancing is a daring display of beauty that will truly transport you and your guests to the islands of Polynesia. Our fire dancers are highly trained in this authentic and exciting art form, made popular at the authentic luaus on the Hawaiian and Polynesian islands! We offer both solo fire shows, with your choice of a male or female performer, depending on availability, as well as the only male/female duet fire act in all of New England. Shows include a variety of acts such as poi, a traditional Maori performance art from New Zealand, and both single and double staff, a type of fire spinning evocative of the fire knife dancing used in traditional ceremonies on the island of Samoa. Duet shows also include a grande partner poi finale, in which our two fire performers join together to create mesmerizing interwoven patterns of fire, making these shows by far the biggest wow factor for your special event. Our fire dancers will collaborate with our hula dancers to bring you an exhilarating and stunning show, catered especially for your luau.
View our fire show.
It is recommended that you book the dancers as far in advance as possible, as availability is extremely limited during luau season, which is at it's peak on weekends between Memorial Day and Labor Day.
---
Event types: Corporate Outings, Island Theme Birthday Parties, Bridal Showers, Anniversary Parties, Graduation Parties, and Wedding Receptions
We can do a dance production custom-designed to your event, ranging from a Meet 'n' Greet with a lively, exciting 15-minute dance set to a stirring full scale one-hour virtual "tour of Polynesia". This can include performances of traditional Hawaiian hula and Tahitian ori, and a grand finale fire performance! Get interactive with audience participation and photographs with our dancers in authentically bright, beautiful costumes. We bring the Aloha of the Islands directly to you!
---


Disney's Moana comes to life! Let one of our lovely hula dancers do a short performance for the children, followed by a fun hula dance lesson, where they will learn 2 or 3 easy choreographies, specially tailored to suit their age group. Next we'll do a dance contest or another age appropriate game, apply tropical temporary tattoos, and end with photos with the hula dancer! Your little one and all their friends will remember this luau themed birthday party for years to come!

---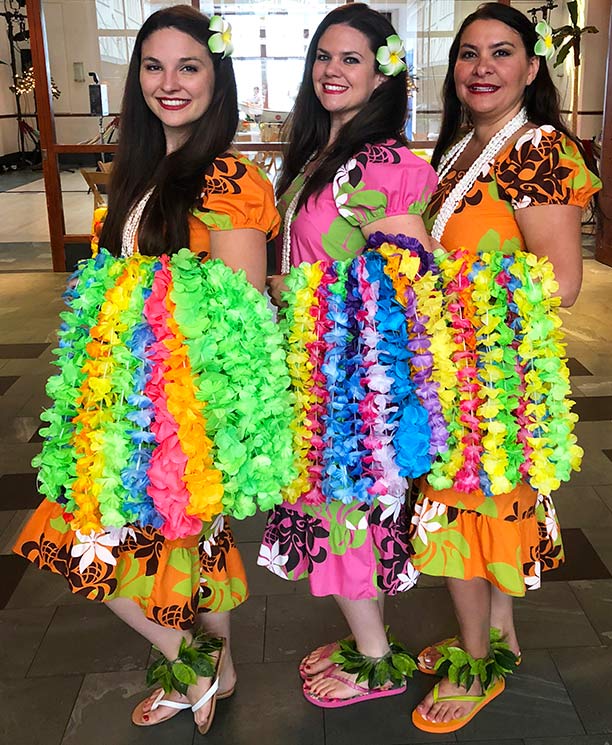 Dancers greet your guests with traditional Island Aloha and individual gift leis of real or silk flowers. These may be purchased from us or elsewhere.

---
"Lola, I cannot tell you what a spectacular event Saturday turned out to be and it was so much due to the outstanding contribution your wonderful dancers made. They did the meet and greet beautifully and were terrific with the guests, and then they brought the house down with their performances! They had the crowd so engaged and entertained it absolutely made the night. Thank you for making a great party!" Joanne C (Cape Cod)
Everything was awesome! The fire dancers were better than some that we've seen in Hawaii, and everyone enjoyed it- thank you sooooo much!
You contributed to what our friends and family are calling the party of the century!
- Lynn P. MA
Absolutely 100% excited that Polynesian Fusion was able to help us out! Lola was extremely professional and a wonderful dancer. She showed up early and was very accommodating with my requests. We had a bridal shower with 20 women and she had each and every one of us up and doing the hula! I mentioned the Bride-to-be's name ONCE to her, and she remembered it, calling her up to dance by name. Every guest raved about how much fun it was and one guest was even interested in taking a future dance class with her. I would recommend Lola to anyone looking to have some extra fun at their luau! She is a beautiful dancer and an absolute memorable addition to the wedding shower!
-Stephanie L. RI
We had a large outdoor family reunion luau. We hired one dancer from Polynesian Fusion, and she was wonderful. Certainly the hit of the party! We set it up as a surprise, so no one was expecting a Hula Dancer. She got changed after she arrived, in full Hawaiian costume, and looked beautiful. Did an approx. 20 minute show, very graceful, very professional, very entertaining. Then did an approx. 20 minute Hula lesson for everyone, ages 4-85! Very entertaining and interactive.Lots of laughs, and great pictures. She ended with a limbo contest which again engaged a large crowd. Would definitely recommend to others! -Sheila O. NH
I hired Lola for my daughter's 8th birthday party luau. She was just amazing! The kids had a great time and days later were still talking about it. The performance was beautiful, and watching the kids learn the dances was just an awesome experience for everyone! -Elizabeth R. CT
---
Watch the video below for an exclusive clip of Polynesian Fusion!